Name: Nema Crossford "Rocky Road"
Age: 18
Bounty: 60 thousand beli
Species: Human
Occupation: unemployed
Allegiance: Pirate (no current crew in this RP but in my own WIP manga she is apart of the RedBack pirates but she is not in a crew here)
Home Village/Ocean:North Ocean
Appearance: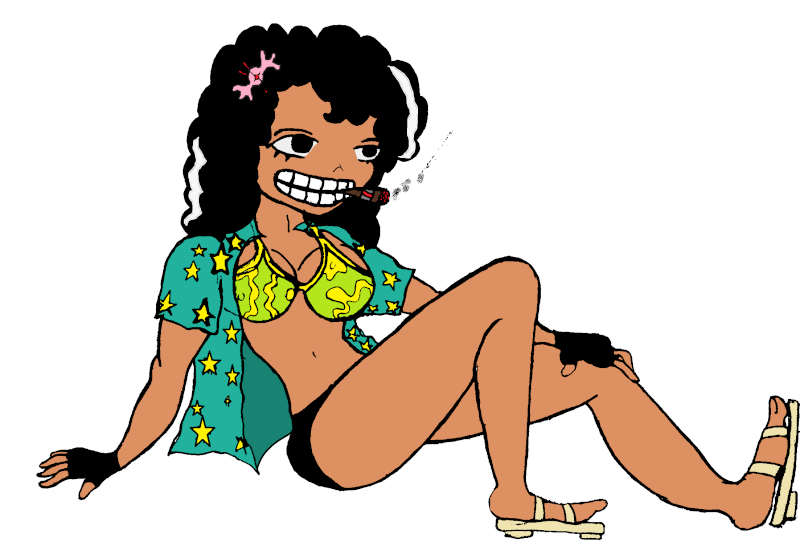 has a black way afro. She is most commonly seen with a cigar. She wears a green bikini top with yellow hawaiian star theme. over the bikini is an unbuttoned blue hawaiian shirt with yellow stars. She also wears a black bikini bottom. on her feet she wears brown sandals. She has grey eyes and caramel brown skin. Has a pink beret in her hair
History: As a child, Nema loved rock climbing, with no specific protection (helmet, pads, strap etc.) she would usually end up getting hurt badly when falling, its a miracle that she is still alive. She was raised by Jaldo a man of many pistols and guns, it was because of him that Nema was destined to set out on an adventure of her own. One day a group of Marines came to where Nema and Jaldo lived. Jaldo was a pirate with a 70 thousand beli Bounty, unlucky for Nema Jaldo was easy to pick even from a crowd not only that, but these Marines were as corrupt as they came. Jaldo fought well against the Marines but was soon defeated, they had captured hi but didn't do the same with Nema...In suspicion of her soon becoming a pirate they wanted to kill the girl even at her young age. Even while being held by the marines Jaldo was able to Aid Nema enough to allow her to escape. It broke nemas heart having to leave the one place she had ever known and the one person that had been taking care of her. To this day although she is unaware if Jaldo was executed or is being held somewhere she vows to find out what has become of him.
Personality: Nema is usually seen with a regular expression on her face. She generally keeps a smile on her face when talking to others...assuming they are not marines. thats another thing Nema absolutely hates Marines, she thinks Marines are full of it when they say they stand for 'justice' especially when trying to take way the freedom of a pirate. If she gets the chance to take out a marine, she may team up with even the nastiest of pirates as long as she gets to take out a marine.
Ship: Schooner (current ship is not 'her' ship she simply needs to to get from one place to another, she wishes to join a crew)
Ship Flag: (currently a black flag with no symbol)
Devil Fruit:  Iwa Iwa no (rock rock fruit)
type:  Logia
effect: The Iwa Iwa no mi grants the consumer to create and control stone or rock around their body. The user can shoot projectiles of stone or rock. The user can create stone like weapons over there arms and legs and even create armor with it. the user can create rock slide under their feet to allow themselves to move quicker on the ground.
Special Abilities: high jumper, seems to be able to take a lot of normal melee hits
Learned Techniques (Keep it 1-25): 'Rocky Rage' Nema uses the Iwa Iwa powers to form a big fist made out of rock over her arm and hand, she would punch the ground to stagger opponents. 'Rocky Guard' Nema puts her arms together and forms a somewhat strong rock shield, guards frontal attacks but it is not that big so it doesn't block her legs unless she is kneeling and covering her legs with with the shield. 'Rocky Road' Nema shoots the rocky fists around her arms toward her enemy as they travel quickly causing the dust on the ground to fly up.
Weapons/Items:none
Goals: Find out what happened to her Guardian Jaldo. Join a crew and stick with them till her end.