Name:
Drew "Diamond Warrior" Akashi
Age:
19
Bounty:
5,000,000 for 5 counts of marine murder and 2 of being associated with revolutionaries.
Species:
Human
Occupation:
Swordsman, Blacksmith
Allegiance:
Pirate
Home Village/Ocean:
South Blue
Appearance: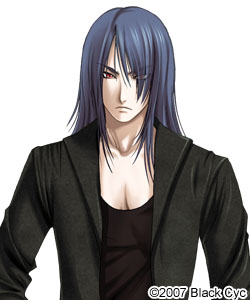 Drew has an average to tall height of five feet eleven inches. He weighs roughly one hundred and fifty pounds, which is perfect for his build; semi muscular. He is extremely pale, which is strange because he spends much time outdoors. Drew has long indigo hair which goes just above the nose in the front, and a little below his neck in the back. His eyes are a balance between a dull and stormy grey color, but not quite one or the other, although depending on lighting it can look either way. Drew's usual attire consists of a t shirt, worn out jeans and a pair of canvas shoes for maximum speed and agility. He usually wears a light jacket over his shirt, with a Chinese dragon on the back, which is the symbol of his country. He also has a tattoo of this down his left arm.
History:
Spoiler:
Personality:
Drew doesn't usually get on board with causes that seem like they can not have their goals reached, which makes him a bit of a skeptic towards most things. This has been a trait of his ever since the government took his parents island. He is also a bit judgmental of people, but if he gets to know them better he will forget about his first impressions...usually. He has never had many real friends, so he is a bit reserved and socially awkward. It's not that he hates people, its just he has a hard time starting/maintaining a normal conversation. He is, however, very loyal to who or what ever he is a part of, and will allow himself to be subdued to help a friend if need be. He is also not very easily excited, which means he has razor sharp focus. This helps him in combat to not loose focus. However, if his enemy has an interesting weapon, he will begin asking questions about it. This brings me to the point that Drew is obsessed with shiny things and exotic weapons. Another quirk of Drew's is that because he has a large supply of diamond, he is not very stingy. It can be considered humorous and almost child like when he goes to a restaurant extra hungry and orders the entire menu. Drew enjoys designing and making weapons, polishing his sword till it is spotless and shiny and studying random weapons. He dislikes the world government, overly ignorant people and arrogant ones.
Ship:
name of ship
Ship Flag:
describe
Devil Fruit:
Naiya Naiya No Mi/Diamond Fruit
Type:
Logia
Effect:
The Naiya Naiya no Mi is a Logia type Devil Fruit that gives it's eater the ability to produce and control diamond similar to how someone with Hei Hei no mi can control Ice.
Special Abilities:
Sword Skills:
Drew is very skilled with his blade, and train has made him very fast with it, able to block and attack with force, and many other important things
Learned Techniques (Keep it 1-25):
Devils Fruit Techniques:
Sword Techniques:
Weapons/Items:
Tetsu Ryu
Katana
Goals:
Find Nakama, Study every type of weapon there is