Name:
Hyman "HIM"
Age:
20
Bounty:
0
Species:
Human
Occupation:
Explorer, Captain
Allegiance:
Pirate
Home Village/Ocean:
West Blue
Appearance: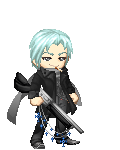 History:
According to Hyman, he was born on West Blue and he is the son of a wealthy family. When he was a child, he received knowledge over litterature and geography lessons. He had the chance to read many books and learn a lot about the world and so the desire to travel around the whole world was created deep inside him. He wanted to live the adventures he read about in the books and see the places he also read about in the books. This is what led him to become an explorer and so he started training from an early age in order to receive the necessary strength to travel around the world.
At the age of 10, when he realised what he wanted, Hyman started his training. The young boy tried several different methods of fighting and trained with different weapons. However, nothing could sweet him more than sniping did. As a result, Hyman started practicing on the usage of the rifle and he slowly started becoming an excellent sniper who could snipe enemies quite quickly and precisely. For many years, according to his own statements, he trained his sniping skills and after finally completing his 18th year, he finally decided to set sail in order to travel around the world and explore new islands. And now, Hyman is traveling with his crew... The Two Sided Adventurers. Ever since then, Hyman is working for different kingdoms that apply for his services, to explore islands that have never been explored before and give them necessary information to establish basements over them and take advantage of any resources there might be on the islands he explores. Currently, he is working for the Salut Kingdom, a small kingdom in West Blue.
However, there is an interesting fact inside his story. Despite the fact that Hyman has stated that he failed in other methods of battling except from sniping, he has shown himself to be quite proficient at using the sword, somewhat strong physically and quite fast. Most people do not take this as a contradiction; they believe that Hyman just took the rifle as his main weapon because he was better at using it as his weapon than he was at using a sword or his body as his primary weapon. As a result, he can be called a jack of all trades, who is proficient at sniping.
Personality:
Hyman seems to be a quiet man who only wants to live an adventure. He does not seem to like doing anything else and he is overally quiet. He is not a coward in no way, but from times to times he is showing fake cowardice in order to trick his enemies and attack them. He has shown to be a very proficient liar and he can easily fool people into believing what he says. His role as a sniper and a captain in his exploring crew has made him become a great tactician so that he can take down any possible pirates his crew might encounter on the way. He likes boasting his achievements, like many explorers, but his subordinates keep saying that these boasts are a bunch of lies. This irritates Hyman in a comical way all the time, making this a form of a running gag inside the crew.
As he is an adventurer, Hyman also believes in dreams. He has the opinion that dreams ought to be chased and that if somebody believes in something, then they will definitely find it. He is a fan of the idea that when anybody wants something badly, then that is going to happen no matter what. For this reason, he is mocked again by his crew mates often, making this another running gag inside the Two Sided Adventurers.
However, whenever he is annoyed, the other part of his personality can be seen. Hyman can easily turn into a killing machine, if irritated. He can be a ruthless man from times to times and he does not hesitate at killing anybody. That contradiction between his characters is what is responsible for the name of his crew as well as the appearance of his figurehead. He seems to have a double personality that is unlocked whenever he is in danger or mad about anything and it is unknown for how long that personality lasts. What makes him really dangerous, though, in this "berserk" mode is that not only he can kill people but he can organise criminal activities, such as organising a plan about how to murder an enemy on the spot along with his comrades and other stuff like that. Also, it is this part of his personality that makes people call him a pirate and not a regular explorer.
Ship:
Double Adventure; Double Adventure is a small but fast carravel ship with an owl as a figurehead. The half face of the owl is black colored while the other half is white colored.
Ship Flag:
A regular jolly roger with rifles instead of bones.
Devil Fruit:
N/A
Type:
N/A
Effect:
N/A
Special Abilities:
-Great Eyesight
-Proficient Sniper: Hyman is a sniper who is using a rifle as his weapon. He can shoot enemies from great distances (around 50 meters away) with great accuracy.
-Jack of all trades: Hyman knows how to weild a sword and how to fight with his bare fist, but he avoids doing so as he is better at using his rifle.
Learned Techniques (Keep it 1-25):
As Hyman is battling with his rifle and actually only shoots his enemies, he has no named techniques (ATM).
Weapons/Items:
A rifle
Goals:
According to Hyman, his goal is to explore and find new islands.