Name:
Doku Nakamura
Age:
15
Bounty:
50,000,000
Species:
Human
Occupation:
optional (captan doctor cook ect. max two captains per user, that part dose not apply to admins)
Allegiance:
Pirate...I guess lol
Home Village/Ocean:
North
Appearance: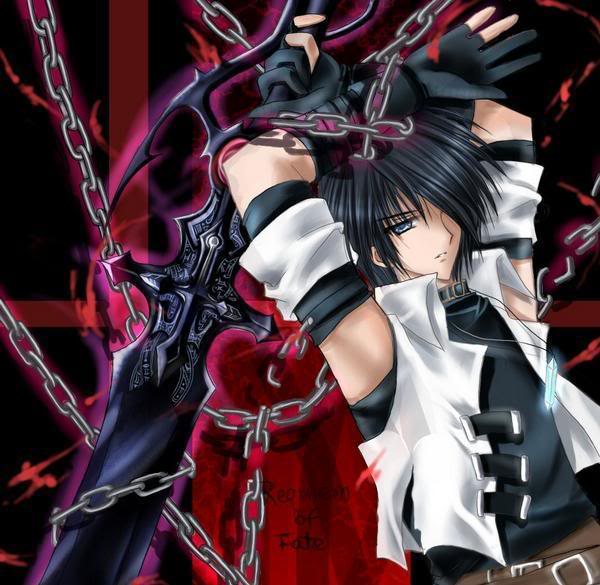 Doku stands at 6 ft 3 rather tall for his age, he has unkempt black hair which falls into his eyes at time. His eyes being a cold blue showing hate towards the world. He has a medium build and tends to wear white clothing barely tampered with black.
History:
Doku grew up no mother no father. His mother was a nickle whore whom got knocked up by some scum bag. After his birth he was left in the woods to die until his 'father' found him when he (his father) was only 3. Kenjiro Nakamura raised Doku as his own child for years, he made sure he was happy and healthy. But due to Kenjiro's ideals and thoughts on piracy Doku grew a twisted personality. When he was 9 Kenjiro gave him a devil fruit which allowed him to control metal, as such he learned how to use many many weapons.
When Doku was 13 Kenjiro left out for sea and as such Doku was alone again. How ever he got letters from his father every now and then and wrote him back as soon as he could. At the current time the letters stopped after two years and Doku has begun to worry and is planning to set out to look for his father.
A day before the young man had plan to set off into the world a man had arrived on his island and was brought to him. This man was Daiki of the Black Isle Assassins. After a fight the man offered Doku a spot in the Assassin crew which he accepted after he was promised to be able to get Derge Namikaze's head on a platter.
Soon after he was taken into the crew he was given a mission with another member of the crew to go take down a small band of revolutionaries which were planning on saving a slave house. After beheading one of them he left his partner to take care of the rest while dealing with a more powerful foe who called him self death. Doku went relatively unharmed due to his fruit before receiving major damage and in turn activating the metal titan ability. While still losing he was able to live and went on back to the crew, once he had become more comfortable he had grown to enjoy the crew but feeling weak he went off with permission from Karasu and trained with two well known men. One was a good swords man Sanya Tika and the other was a Shichibukai named Gael.
Gael taught the young man how to control his devil fruit to it's full extent and others taught the young man gun play and helped build up his body. The young man then left out to venture back to the crew...Eventually.
Personality:
Doku is a violent, sadistic young man, whom with no sense of justice, would constant think of only himself. The true form of a self-centered, arrogant, yet troubled child, Doku is tortured by the very power he wields. Drove insane, Doku takes orders only when it involves his own benefit or from his own father. He constantly has a drive to become stronger, which will never cease. He is caring yes despises love. He despises lovers, believing war and combat lead to true peace due to the how he thinks his father thinks. Though the only sense of honor is that he refuses to kill the weak. Orphans, he would gladly set out of their misery, along with homeless and starving people. Respect also means nothing to the child.
Ship:
name of ship
Ship Flag:
describe
Devil Fruit:
Tetsu Tetsu no Mi / Iron Iron Fruit
Type:
Logia
Effect:
The user is able to create, control and transform into metal
Special Abilities:
powers excluding the devil fruit not techniques for example a sword style
Learned Techniques (Keep it 1-25):
Dance of 50 swords: Anywhere from 10 to 50 swords are made and attempt to slice and cut an opponent and even impale them.
Surprise attack: Creating a blade behind the enemy Doku attempts to back stab them.
Protection: Creates a wall of metal to stop an attack.
Ultimate protection: Creation of a large metal dome around the ship to save it from enemy attacks. A smaller version is used to protect the user from very strong attacks.
Flying fist: Throwing a punch Doku launches a metal fist towards the opponent.
Random item creation: Just creating items you might need such as a pick, an axe or a shovel.
Metal Titan: Discovered when fighting Death. When scared enough or angered enough Doku forms a 50 ft metal titan which he can control. This move is only able to be active when he knows he is going to die. Also when the form is finished it drains Doku of all of his energy leaving him tired and weak.
Bullet Storm: Used to attack several targets at once with a hail of bullets.
Metal Dragon: A move in which Doku needs to be completely still and focused to use. Creating a dragon of around 25-30 ft he keeps it levitating mimicking flight and it fires shuriken from it's mouth
Personal Steel Army: Creating a small number of steel men Doku has them morph weapons out of their bodies and fight along side him.
Weapons/Items:
N/A
Character Flaws:
(Put down things such as the character's weaknesses, fears, berserk buttons, and overall personality flaws. At least two are necessary.)
Goals:
Earn money enough money for anything he needs.