Name:
Morpheus "The Shaper" Hypnos
Age:
21
Bounty:
0
Species:
Human
Occupation:
Captain, Fighter
Allegiance:
Pirate (Insomnia Night Pirates)
Home Village/Ocean:
South Blue
Appearance: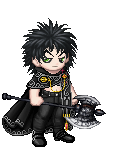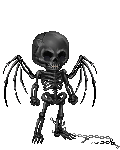 In his living form, Morpheus is a young adult, standing at 5'11". He wears a dark black cloak which drapes over his shoulders and most of his chest. Underneath the cape is nothing but Morpheus chest. Morpheus has piercing green eyes and a mop of black hair. He wears black suit trousers and black formal shoes. He is seen with the Battle-Axe of Hypnos on his back most of the time, and is rarely without it.
In his shade form, Morpheus has taken on the look of an "Angel of Death". In this form, he looks like a black skeleton with bone-wings. Chains drape across his bone-wings and from both feet.
History:
Morpheus, as a child, lived with both of his parents, moving from town to town, island to island for one purpose; Money. Morpheus' parents were both conmen, trying their best to get as much money as possible. They're specialty was pretending to be Hypnotists, helping people's problems using Hypnotherapy. They hypnotised the patient and forced them asleep before taking all the money the person had on them. Another trick that they did is that they created fake weapons and armour (Though through correct means, just rushed) and sold them off at a higher than normal price. Morpheus began to learn Hypnotism at the age of ten years old and began to learn blacksmithing at the age of sixteen. At the age of seventeen, after being abandoned by his parents for always failing to pick any victims with enough money, Morpheus wandered alone, unsure of what to do.
Morpheus set up a stall for his Hypnotism in a busy street of a town. Several people stopped and payed for the Hypnotherapy but most only had enough cash to pay Morpheus in the first place, so after hypnotising them asleep, he let them go. One "patient" that Morpheus had was in the same position as the others, just enough money to pay for the therapy, but this one had something else in his wallet. In this man's wallet was a note, reading; "
Remember: Tree marked with X.
"
Morpheus instantaneuously became curious of this, thinking it was something of value and took the note, placing the wallet back into the man's pocket and leaving him alone at the stall.
Morpheus left immediately, going to search through the woods for a tree marked with "X". This took Morpheus several hours to complete. Once at the tree, there wasn't anything obvious that could be worth anything, so trying his luck, Morpheus began to dig around the tree. Not having anything to dig with on the first day, Morpheus used sticks and rocks the were laying about, though to no help. On the second day, Morpheus remembered to bring a shovel.
After taking several days to dig up this wonderful "treasure", it was a let down for Morpheus. All it was was a large fruit. Though the fruit seemed exotic and perhaps would fetch a high-price, Morpheus thought it wouldn't get a high enough price for all the hard work he did to get this fruit. As such, taking the reward as his own, he ate the fruit. That night, as he slept, he became concious of his living dream. In which he could do anything he desired. Once Morpheus woke up, he thought nothing of this and went through his daily routine. Strangely, he had started to get more luck with customers. Perhaps the fruit altered his luck? At night, when Morpheus was dreaming, he remembered the face of one of his customers, who was extremely rich. Without meaning to, Morpheus pulled this man into his dream. To test if he had infact pulled this man in or was just imagining it, Morpheus did the only thing he knew that could test it. He took a knife from his trousers, and stabbed the man in the throat. The man did not disappear and no blood was spilled. Morpheus concluded that the man was just an image.
Apon awakening, Morpheus saw a strange ghost-like figure in his room, and the figure was staring at him. Morpheus was amazed by what he saw. It was the rich man that he had murded in his dream last night. Morpheus began to contemplate on this while the man bickered and moaned about being stuck with him. Morpheus went out of his house and began to walk about and saw the rich man's body. The body was walking about, going through his usual day with an apathetic look on his face. The apparation that was following Morpheus decided to go over to his body and try to stop it from moving. As soon as the man touched his own body, the apparation disappeared and the man's face seemed to cheer up. From this, Morpheus had concluded what had happened. He was a God. With this power, he had managed to sever a soul from it's body.
Morpheus packed his things and decided it was best to go around the world, showing everyone the teachings of their new God. He did this for several years, but everytime he tried to gain support, he was thrown down for being a heretic. After one night of another rejection, Morpheus had an epiphany. If he could not get people to respect him as a God, he would get peple to
fear
him as their God.
Personality:
Morpheus has a strangely twisted and demented mind. He believes in all aspects of himself that he is a God of Dreams. This God Complex goes to the extent where he
will
kill people who do not believe him to be a true God. Apart from this, Morpheus seems to be extremely interested in the minds of other people and mainly how they react to certain stimuli. He tends to do this by inflicting physical or emotional pain on the target in mind. If someone ever manages to get close to Morpheus, Morpheus will show care towards them but if it is someone he could not care less for, then he will do little to help them out of a dire situation.
Ship:
The Nightmare Storm
Ship Flag:
The flag looks like a normal Jolly Roger apart the the forehead of the skull is cracked and stops level with the eye sockets. Off of the bottom of each bone, two golden pendulums hang.
Devil Fruit:
Yume Yume no Mi
type:
Paramecia
effect:
(Look at Devil Fruit Page for the effect)
Special Abilities:Learned Techniques (Keep it 1-25):


Cleave of the Heavens: Morpheus raises his Battle-Axe over his head and attacks the target straight from above. The weight of the axe and the force that it is being pushed at is powerful enough to cut straight into solid rock.

Whirlwind: Morpheus spins his battleaxe around to his side, gaining velocity before swinging it down ontop of a target, increasing the strength of the hit.

Sleep: Morpheus would take out his golden pendulum from underneath his cloak and begins to swing it. If the target continues to pay attention, they will be caught in it's gaze and fall asleep after "3". If by any means the target looks away, this will not work. This can also be used on Morpheus himself.

Weapons/Items:


Battle-Axe of Hypnos

Golden Pendulum (Used for Hypnosis)

Goals:
To become feared as a God.