Name:
Ursus Triton "Whitehair" Oceanus
Age:
34
Bounty:
0
Species:
Caribbean Reef Octopus
Merman
Occupation:
Adventurer
Allegiance:
Neutral
Home Village/Ocean:
Fishman Island
Appearance: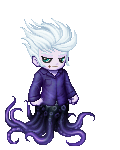 History:
Ursus Triton Oceanus is the son of the late king of Fishman Island. Ever since he was born, he was grown with the idea that he would become the future king of Fishman Island and succeed his family at ruling the kingdom. As a result, he was training himself in order to become the greatest soldier of Fishman Island and become the future king of the place.
At the age of 5, the boy started training himself in mermaid combat and fishman karate. Unlike most mermen because he had legs, he was able to train himself in fishman karate too. He trained himself for many years and the results were the expected ones. The merman became a great user of fishman karate as well as merman combat. As a result, like those who practiced merman combat he could touch the water like it was tangible and like those who used fishman karate, he could manipulate the water to perform strong attacks. With these two abilities combined, he turned into a strong fighter and got himself in the army to ensure the safety of the place.
For several years, he was in the army. With his strength he managed to stop many pirates or kidnappers who happened to go to fishman island and kidnap mermaids or fishmen in order to sell them as slaves. That earned him the respect of the people of the island, including the other soldiers of the army. Also, during his time in the army, the other soldiers called him "Whitehair" because of his white hair, resulting him to have this epithet.
One day, though, his life as an elite soldier of the army and as the future king of fishman island was about to change. A fellow soldier of his, Namor, killed his father after revealing that he was his illegitimate son. His father's death caused anger to Ursus Triton and ever since that day he swore that he would take out Namor for killing their father...
However, that was not the only slap that fate prepared for him. A few days after the death of his father, Ursus Triton was overthrown and somebody else took over the throne. The reef octopus merman was sent to a prison and ever since then he was treated as a criminal that should not exist and that should be dead. That made the merman change his opinion and change his goals. Apparently, he started dreaming of getting out of the prison and take back his throne from the person that took over instead of him.
And now, at the time that Namor got imprisoned in Fishman Island after he tried to take over the place with his powerful crew, Ursus Triton managed to get out by taking advantage of his ability to turn invisible and is preparing his revenge on those who made him lose everything...
Sadly enough, Ursus Triton did not manage to achieve his revenge. No matter how much he tried, in the end his own brother managed to get away and he ended up taking over the Fishman Island's Dojo. That action infuriated Ursus Triton greatly and from that point he decided to leave from Fishman Island so that he would hone his skills and become strong enough to beat his brother and exile him from the island.
For many months, the man was traveling by himself. However, one day, he had an encounter with a strange human. Ursus Triton met a man named Akio. The two of them quickly developed a friendship and they took a liking to each other. However, because of the fact that Akio was a man with a bounty, they eventually ended up being chased by the marines. After a long and epic battle and a game of hide and seek, the two friends finally managed to emerge victorious against the marines and they parted ways. And now, Ursus Triton keeps traveling around the Grand Line in an attempt to hone his skills and become a better fighter to eventually take down his brother.
Personality:
Ursus Triton is a merman who is eager to protect his home place. He is a person who is never lazy and will do his duties so that he will satisfy everyone. Because he was raised as a noble in Fishman Island, he can be very gentle with others, unless they have done something bad to him. He likes flirting with mermaids, fishwomen and even female women. He believes that not all the humans treat the merfolks as slaves and so he is eager to cooporate with humans in order to prove that the sea creatures and the land creatures can live together.
However, when somebody has done something to him, like killing a person he loves or harming him in the worst way, he gets blinded and he wants to get revenge no matter what. Whenever he is in this state, he is usually blinded by his desire to punish those who dared to harm him to the point that he cannot think logically and is rude to others, as well as aggresive and violent until he satisfies himself (either with the death of those he doesn't like or with paying them back with the same way they harmed him). However, he will never drag innocent people in his fights and will not use cheap tricks to win and avenge himself. He will rely on his own strength.
Ship:
N/A
Ship Flag:
N/A
Devil Fruit:
N/A
Type:
N/A
Effect:
N/A
Special Abilities:
-Land Walk:
Despite the fact that he is a merman, because of his octopus species, Ursus Triton's merman tail has six legs. As a result he can walk on land as he has legs.
-Merman Combat Knowledge:
As he is a merman, Ursus Triton can use Merman Combat. As a result, he can use techniques that any mermen can use to cause devastating damage.
-Fishman Karate Knowledge:
Despite the fact that he is a merman, because of his octopus species, Ursus Triton's merman tail has six legs. As a result he can walk as he has legs. That allows him to use Fishman Karate, just like any other fishmen.
-Species Special Ability - Color Change:
Ursus Triton can change his color to match his surroundings because of his species. He has a large range of colors to match his surroundings, to the point that he can turn invisible.
-Leg Split:
As he is a merman who is over 30 years old, he can split his tail into two. As a result, when on land, he can split his six octopus legs in two, making himself have twelve legs and move easier on land.
Learned Techniques (Keep it 1-25):
-Merman Karate's Basis:
Ursus never names this technique when he is using it. By combining the knowledge of his Fishman Karate and his Merman Combat, he takes advantage of the water vapor on the air to launch a shockwave that moves drops of water in his hand to allow him perform attacks. He cannot form water out of air with this attack in no way. It simply moves water in liquid form towards his hands.
-Mizubakuha (Water Blast):
Ursus Triton uses his Merman Combat knowledge to grab water with his hands like it is tangible and throws it towards his enemies like a blast to cause them damage.
-Mizuya (Water Arrow):
Ursus Triton uses his Fishman Karate knowledge to throw a drop of water with great speed towards his enemies. Because of the kinetic force of the attack, the droplet takes the form of an arrow as it moves and is capable of piercing the enemies. An arrow is created per droplet of water he is using.
-Mizudangan (Water Bullet):
Ursus Triton uses his Fishman Karate knowledge to launch a bullet of water towards his enemies. Unlike the Water Arrow it does not have great power, but it is extremely faster.
-Mizubomu (Water Bomb):
Ursus Triton uses his Merman Combat knowledge to grab water with his hands like it is tangible and give it a ball shape. Then, he throws the water on the ground in the middle of the distance with his enemies and a small wave moves towards them in order to crush them and cause them some damage.
-Mizuyuri (Water Tremor):
Ursus Triton uses his Fishman Karate knowledge and punches the air, using the water vapor in the air to unleash a shockwave attack that aims for his enemies.
-Mizukawa (Water Stream):
Ursus Triton uses his Fishman Karata knowledge to perform an advanced technique. The octopus merman punches the ground with his fist. Seconds after he punches, the attack starts taking effect. Upon hitting the ground, the man uses the water vapor in the ground to unleash a shockwave from below the enemies to damage them.
-Mizukousen (Water Beam):
Ursus Triton's ultimate technique. The merman uses his Merman Combat knowledge to grab water like it is tangible. He charges the water with both hands and he throws it to the enemies in the form of a devastating beam. This technique can only be used in an area where there are many amounts of water and not simply with a few droplets of water. As a result, it is difficult to be used on land, unless the user is next to the sea, or it is raining.
Weapons/Items:
N/A
Goals:
He wants to take his revenge on his brother and the person that overthrew him from the kingdom's succession and imprisoned him.