Name: Dome "Bitey" Amun
Age: 22
Bounty: 29,000,000
Species: Fishman
Occupation: Captain, Hand to Hand Expert
Allegiance: Pirate - The Near Pirates
Home Village/Ocean: Fishman Island
Appearance: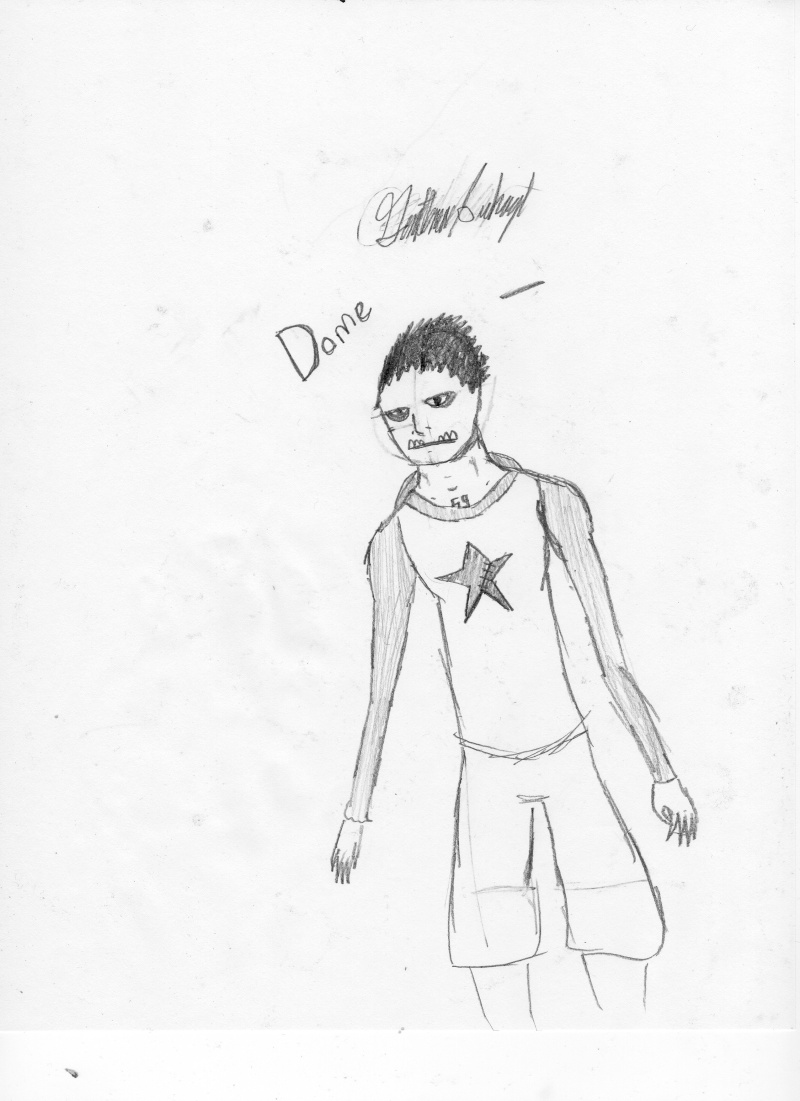 He is about 7'1 tall
History: Dome was born on Fishman island. He lived a normal life becoming a student in fishman karate and eventually a master. He then set out at sea from his island at 18 to become something in the world. Once he reached an island he was automatically looked down upon and abused because he was a fishman. This caused him to snap and so he turned to a life of piracy. He returned to his island for a year to train more in the art of fishman karate. Upon his arrival he found out his family including his mother, father, 7 brothers and 8 sisters. Enraged he destroyed an entire town until a man of great power stopped him with his devil fruit powers. Dome was impressed by this and vowed himself to the man to work under him. He joined the man's pirate crew becoming his first mate. He travelled with the man for many years until he announced he was dying of a disease and told the crew to disband. The first mate stayed by his side until the old man finally died, the fishman cried listening to his last words and buried him later that night. He left to the open sea looking for a new crew creating his own pirate crew. One night he was out at sea and was saved by a man named Low from a Sea King's belly and he allied himself with him as they both had no men in their pirate crews. They became close friends and promised to each other to make large strong pirate crews.
Personality: He doesnt like talking to people and often will ignore someone. He hates people looking down on him and will rip someone apart if they do so. Because of his old captains death, if he overhears anyone mocking him or making fun of him he will instantly attempt to kill them. If someone earns his respect he will fight for them anyday no matter the cost. Under the command of his old captain he became an excellent strategist.
Ship: The Blue October
Ship Flag: A Skull with a red bandana only covering the forehead with Spears for cross bones
Devil Fruit: Limited to only three devil fruit users per person
type: (only if you have a devil fruit)
effect: (only if you have a devil fruit)
Special Abilities: Fishman Karate, 12 times human strength on land twice as much of that in water.
Learned Techniques (Keep it 1-25): (Copied from Fishman Karate Page under Jinbe at the OP wiki)
■Karakusagawara Seiken: The user punches at a fair distance from the intended target(s), so instead of the fist connecting, it releases a shock wave that sends them flying. This move is very similar to Bartholomew Kuma's Pad Cannon with the only difference being that the shock waves aren't concentrated upon being released; but in exchange, it has a much wider area of effect. This move has a delayed effect, as the shock wave takes a while to affect the opponent(s).
■Gosenmaigawara Seiken: A much-stronger version of the Senmaigawara Seiken. It is a very powerful punch, able to knock out a Demon Guard in one strike. It is used like an uppercut, rather than a straight punch, sending the opponent flying skywards. It was first used against Minorhinoceros in Level 4 of Impel Down. Considering the name, it is possible this attack is fifty times stronger then Kuroobi's Hyakumaigawara Seiken and five times stronger then his Senmaigawara Seiken, and as such, break through five thousand tiles.
■Gyojin Jujutsu: Mizugokoro: An underwater technique that the user initiates by first performing a bowl-shaped gesture with his webbed hands (one hand over the other) while underwater right before giving the water itself around him a mighty yank. This allows the user to physically grab and redirect currents as if he were manipulating cloth. In the anime, The user collects the water into a glowing, blue-white orb in his hands, he then swims off at high speed causing the orb to form a spiraling water current which he then throws to the surface.
■Kairyu Ipponzeoi: An underwater technique performed after Mizugokoro. The heaves the current upward, where it erupts from the ocean surface as a towering stream of water. The user can generate multiple water streams like these if necessary.
■Yarinami : A technique used on a body of water's surface. The user heaves a spear-shaped burst of water with enough force to punch a hole in solid structures. In the anime, Jinbe performed this technique after emerging from the eye of a whirlpool, and then musters up the whirlpool with his webbed hands and throws it into the target(s) in the form a piercing cyclone of water. This was first used against the Marines on board a battleship, dealing a fair amount of damage to the ship itself.
■Samehada Shotei: A simple palm block with enough force behind it to slap away a sword swing from the shadow-powered Gekko Moriah..
■Samegawara Seiken: A powerful straight punch that is strong enough to send the shadow-powered Gekko Moriah reeling. It is unknown as to how strong this technique is, compared to either his Karakusagawara Seiken or his Gosenmaigawara Seiken. Although, in the anime, a shock wave passes through Moriah's back.
Weapons/Items:
Character Flaws: If someone insults his old captain; Near D. Dexter aka Redbeard he will automatically go into a rage and attempt to kill them. He is skinny for a shark fishman. He isnt very connected with fishmen, except for the few other fishman karate masters he is still in contact with.
Goals: Become a great pirate with a great crew, to become a yonkou